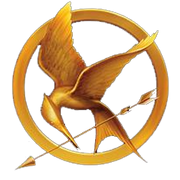 Welcome to The Hunger Games Fanfiction Wiki! Here, anyone can write and share your fan fictions on anything about The Hunger Games with our community!


The wiki is under construction and is in need of a cleanup. But carry on with your fanfics.
About this Wiki | Categories | New Pages | Help | Active Users | Recent Changes
---
The Hunger Games Fanfiction Wiki was established on 23 May, 2010 by Leafwhisker. We are currently hosting 184 articles.

Not so sure how and where to start off? Then be sure to read our
Author's Guide
to help you! It contains our policy, what to make sure before publishing your story, and more!
If you still have any questions about anything, feel free to ask our administrators.

Thursday, July 21st, 2011 - Please read my blog, Improving the Home, and make suggestions. SlyHades99 18:21, July 21, 2011 (UTC)
Wednesday, July 20th, 2011 - We have a new logo, made by Dagostino. On the talk page, tell us what you think! SlyHades99 20:41, July 20, 2011 (UTC)
Monday, June 27th, 2011 - Good jop ppl! We have 70 articles as of... one hour ago! Nice!

OM NOM NOM!

- Dago!

21:14, June 27, 2011 (UTC)
Friday, April 22nd, 2011 - We now have over 50 articles! Spread the news about this wiki everyone! :D

D'agostino

ΦΩΨ

20:48, April 22, 2011 (UTC)
Tuesday, March 8th, 2011 - We have more than 40 articles! -Oi, it's Leafwhisker >_> 22:38, March 8, 2011 (UTC)
Monday, December 20th, 2010-We now have 30 articles! Great job, guys! Dafnne Daughter of Poseidon 20:56, December 20, 2010 (UTC)
Saturday, December 4th, 2010-We now have over 20 articles! XD Dafnne Daughter of Poseidon 00:20, December 5, 2010 (UTC)
Tuesday, August 24th, 2010 - Mockingjay comes out in the US and we are up to 10 articles!

Bramblestar

Join WindClan the awesome! JOIN IT NOW!!!!!! :D

12:21, August 24, 2010 (UTC)
Sunday, May 23th, 2010- This wikia was created!:D -Leafwhisker 13:08, May 29, 2010 (UTC)