Angelia Nox

Full Name

Angelia Alysa Nox

District

6

Age

13

Skills

Healing and Throwing Poison Darts

Hair Color

Black

Eye Color

Amber

Height

5'1"

Birthday

Feburary 18th

Nickname(s)

Angel, Lia, The Poison Mistress

Evaluation Score

6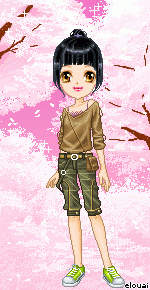 Appearance
Edit
Angelia has medium-long black hair which she usually ties up in a bun, amber eyes, and slightly tan skin. She usually wears a brown shirt, dark green knee-length shorts, green sneakers, and a small brown pouch in which she stores medicine and herbs.
Personality
Edit
Angelia doesn't talk much, and is very serious. She rarely ever fools around. Angelia is shown to possess maturity beyond her years, a result of her past and her experience in the Games. She appears to be kind and sweet at first glance, but is shown to be able to kill mercilessly. She was the victor of the 73rd Hunger Games. Angelia is a close ally of Katniss', and supports her during Catching Fire and Mockingjay.
Stories She Appears In
Edit
Known Family
Edit
Lily Nox-Mother
Iris Nox-Older Sister [Deceased]
Poppy Nox-Younger Sister
Jonathon Miller-Father
Micheal Nox-Twin Brother
Etymology
Edit
Angelia means angel in Latin, while her surname, Nox, means night. Her middle name, Alysa, means alyssum flower. The alyssum flower represents worth beyond beauty, and is also an antidote for rabies.
Angelia forms an alliance with a tribute, slips nightlock or some other deadly plant into their food, waits until they die, and then dashes off to find another tribute. She specializes in poisonous plants, herbal remedies, and creating lethal concotions.